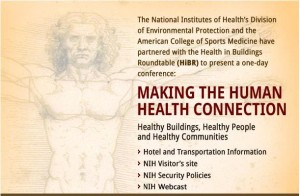 The Health in Buildings Roundtable will meet Tuesday, April 23rd from 8 to 4:30 at the Natcher Center on the NIH campus in Bethesda. The line-up includes a diverse set of speakers and topics.
We saw nothing in the program posted on line mentioning microbial ecology, microbiology, or microbes, but the program might be of interest to some microbe.net visitors.
The complete program can be viewed at http://www.hibrprogram.org/pdf/program.pdf
The conference is free and open to the public. You can register on line to attend in person or to watch the web cast.
On Tuesday, to watch you can go the web site http://videocast.nih.gov/
and click on the program link there to watch the webcast.
The web site says:
Health in Buildings Roundtable (HiBR)​
"Mission:
To identify and support research that addresses human health and building impacts, and to apply the most advanced research to building design, construction, and landscaping in order to assure that human health needs are fully supported."
More information and the home page for the conference are at http://www.hibrprogram.org/