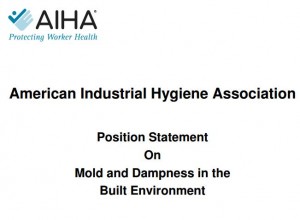 Members of The American Industrial Hygiene Association (AIHA) do a lot of investigations of "problem buildings." Mold has been a hot topic for more than a decade due to numerous lawsuits brought by occupants, tenants, and others against building owners. Large settlements have occurred, and famous plaintiffs and lawyers (Erin Brokavich) have been involved.
Whole industries have been spawned, and AIHA members are frequently involved, especially those who are Certified Industrial Hygienists (CIH).
Now AIHA has issued a mold position document available for viewing on the AIHA web site.