We have a guest post from Keith Seifert today.  Keith is PI of the "Indoor Mycota Barcode of Life" (IM-BOL) project.  See his post below:
Walking in the footsteps of van Leeuwenhoek (part 1)
"And therewithall, whenever I found out anything remarkable, I have thought it my duty to put down my discovery on paper, so that all ingenious people might be informed thereof."

Anthony van Leeuwenhoek, 1716

Letter to the College of the Wild Boar of the University of Louvain

As translated by C. Dobell 1958
Cafe de Wijnhaven terrace, Delft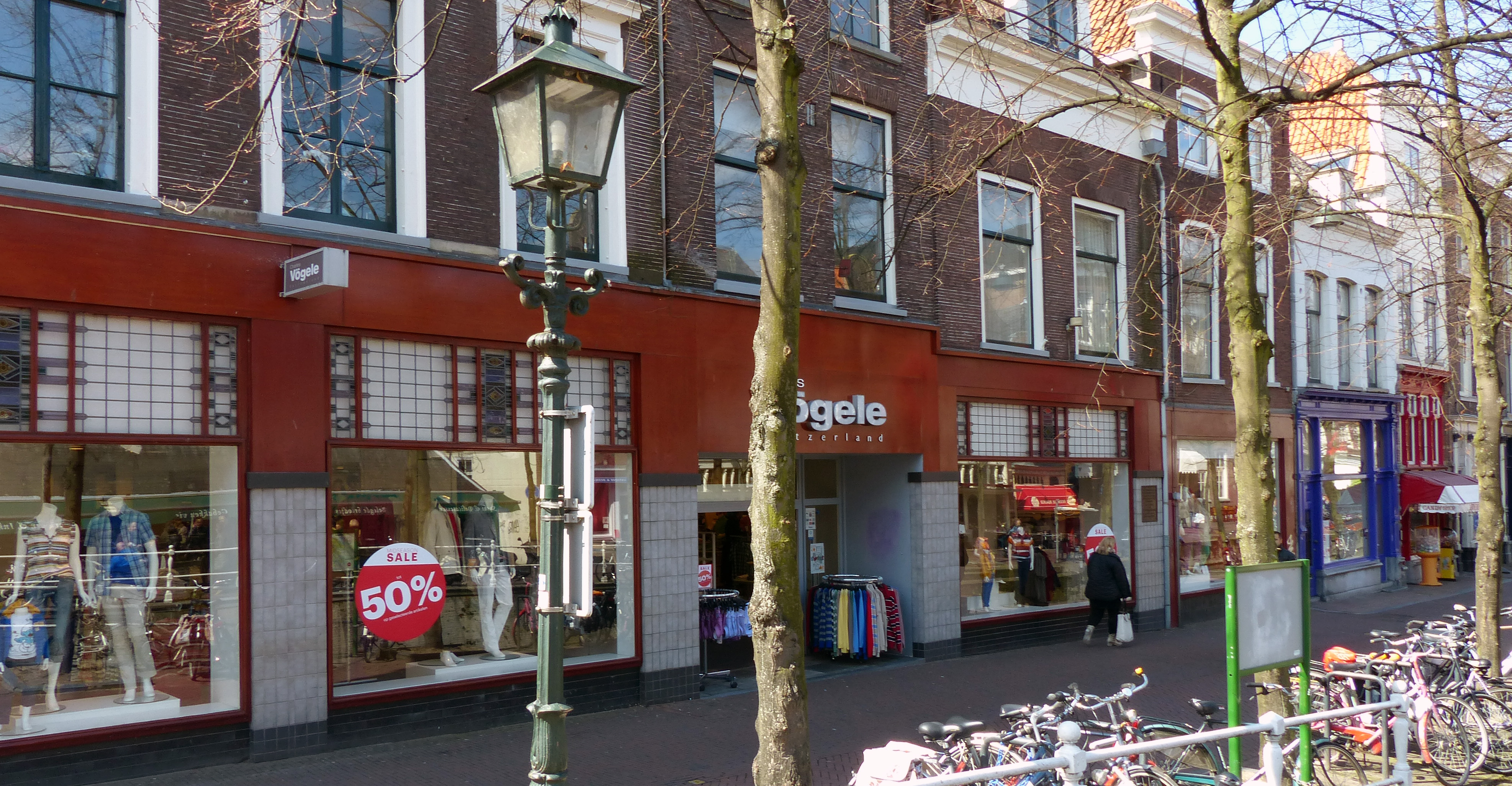 I'm sitting across the road waiting for my lunch in an outdoor cafe, kitty corner to the site of van Leeuwenhoek's house in Delft, in the hubbub of a Dutch Saturday afternoon, the sunlight popping in and out, a cold breeze blowing up and dying down. The house is no longer there but a new world opened up across the street, about forty metres from me. There, he was visited by kings, czars, eminent scientists and the curious, all desiring to look through his microscopes, by his own account as many as 26 visitors in a four day period when he was an octogenarian.
The streets are abuzz with locals going about their market shopping and with tourists doing the Vermeer thing. I wondered how it would feel to sit here. Somehow it seems appropriate that it is still a shopping street, because van Leeuwenhoek was a hat maker and a linen merchant. I learned today that perhaps he got his interest in lenses from a magnifying glass called a thread counter, which was used to calibrate the weave of linen and other textiles. His house is gone, but there is a clothing store there now, Charles Vögele Switzerland. The fish and chip shop in front of me was a fish shop in van Leeuwenhoek's time; three centuries of fishy smells.
On the side of the building is a brass plaque, which I would have missed had I not known to look for it.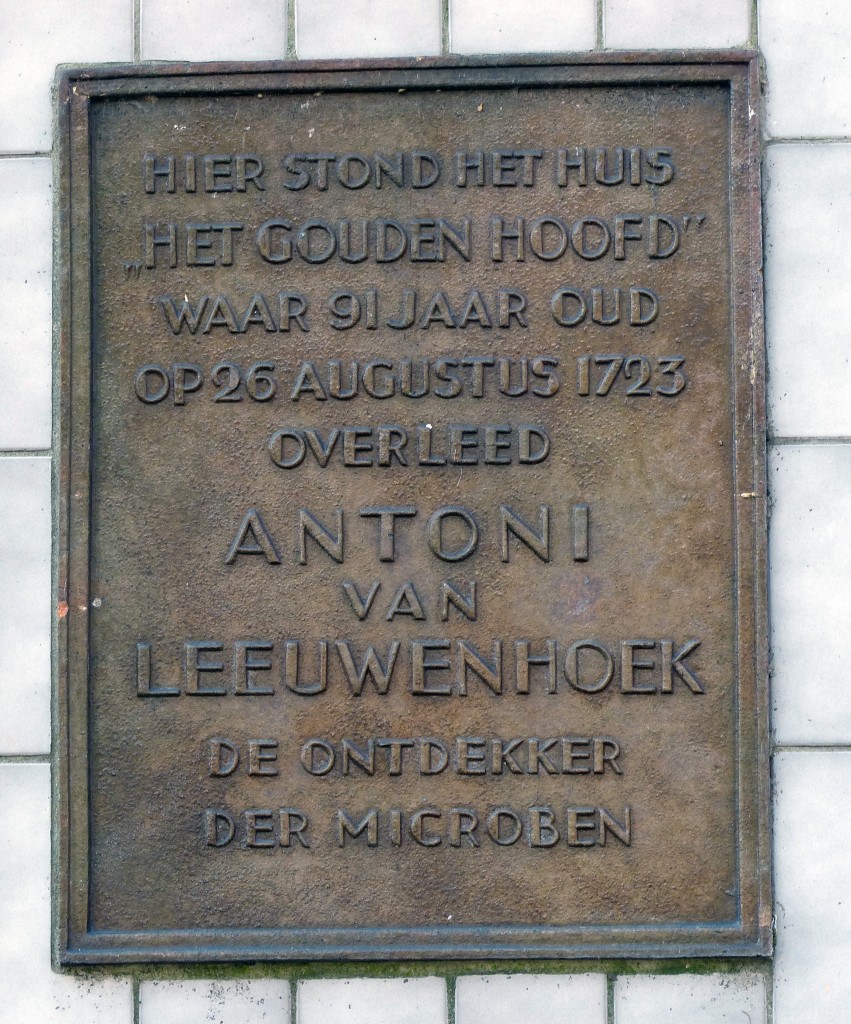 A teenaged girl on a bike noticed me taking a picture and was curious enough to look twice at what I was doing, and then moved on. I haven't seen anyone else stop to look at the plaque.
The other tourists are focused on the town hall behind me and the other side of the market square, where Vermeer lived. Van Leeuwenhoek also worked in the town hall, again about forty metres from me, as a town registrar; he settled Vermeer's will. It is said that his office was on the second floor on the north side. I can figure out the north side, but the second floor… the Dutch generally start their numbering of floors with 0 not 1 the way we do, so it leaves some uncertainty. The building is locked up, probably because it is Saturday, and there is noway for me to charm anyone to let me in. There was once a display about him in the lobby, I understand; whether it is still there will have to wait for another visit.
The local service personnel are so used to people asking about Vermeer that there is a momentary disconnect when I ask them about van Leeuwenhoek, as if perhaps I wasn't speaking to them in English after all and they are searching around in their polyglot brains for the correct language. After awhile, asking in tourist shops whether they had any van Leeuwenhoek or microbiology or microscopy oriented souvenirs, I began to feel like Michael Moore ambushing innocent people with questions like, "Are you still beating your wife?"
I had read that there was not much tourist presence of van Leeuwenhoek here, which is true, but at least there is some. I'm sure that if they didn't have Vermeer and all the Delft Blue tiles and porcelain, the tourist board would be more active in exploiting the native son who changed our view of the biological world as much as any man.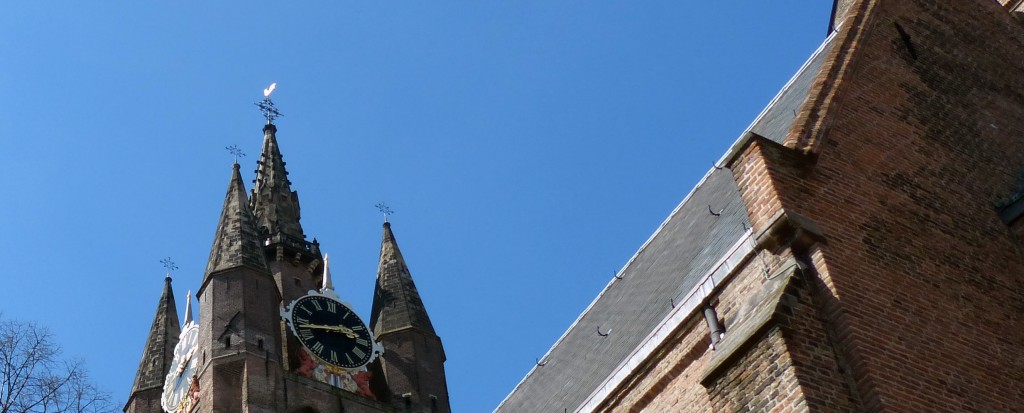 Over the roof of the Vögele store, I can just see the golden rooster weather vane on the top of the Oude Kerk shining brilliantly in the spring sun. Beneath it are the earthly remains of this great man. Although he left Delft for a time when he was young, van Leeuwenhoek did not stray far in his long 91 year life. I can almost see his entire domain from here, obscured as it is by 400 years.
In the aisles of the Oude Kerk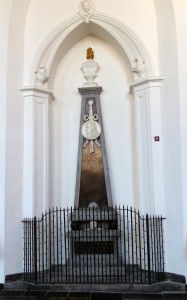 I'm sitting on a wicker and wood chair in the Oude Kerk (Old Church) in front of his grave, in the back aisle of the church. It feels quite perplexing to be walking around on the worn stones of the church floor, many of them engraved and thus the tombstones of the elite of the golden age of Delft. I never know how to feel when visiting the graves of famous people, wondering whether I should be trying to sense some remaining spirit after all these centuries, only finding the vaguest of sadnesses because he is not here to answer questions, or give any impression of what kind of person he was.
Van Leeuwenhoek's daughter paid for the monument from the family fortune, one of a half dozen such monuments in the church. I like the skull and cross bones, and wonder if he would have been pleased by the thought of microbes eroding his flesh down to the bone. There is also a pair of large engraved stones in the floor in front, at right angles. On either side are some display cases, explaining in Dutch who this person was and what he discovered, old photographs and pre-laser printer text. A few people have stopped to look the grave, presumably because they have paid their euro 3,50 to get into the church and have enough mild curiosity. They are not van Leeuwenhoek pilgrims like me.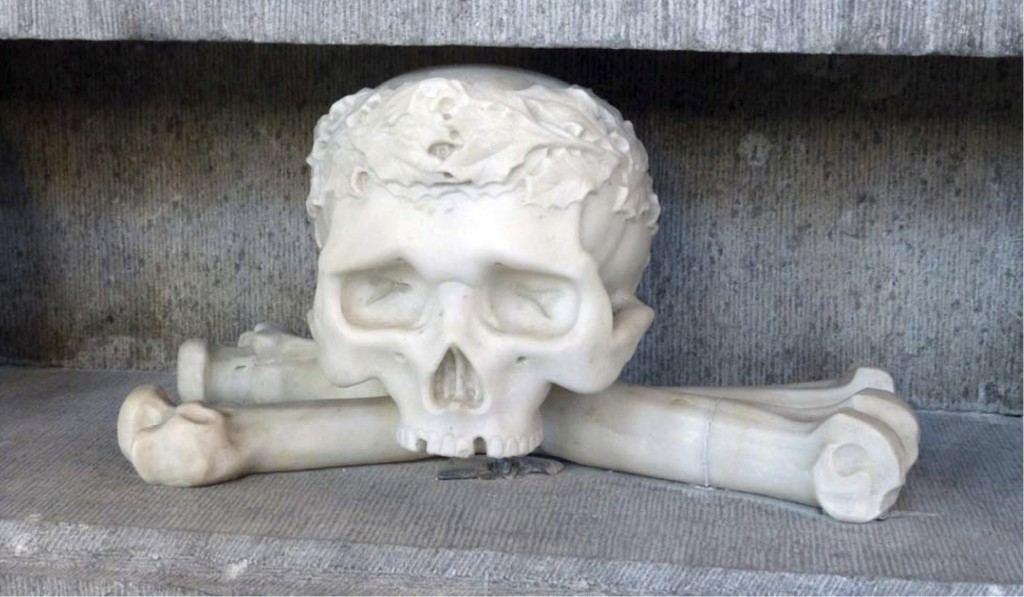 Vermeer, a different kind of genius who lived a much shorter life and probably at least had conversations with van Leeuwenhoek, although we will never know if they were friends, is buried here too. He has the simplest of stones, just his name and the years of his birth and death, set in the floor. I am not the only one to have snapped a photo, but most people walk by it, unaware.
Before coming into the church, I decided to go into the Charles Vögele clothing store, and the men's clothing and change room were in the part of the store in the three dimensional physical space where his house might have been. So I bought a shirt… been there, bought the t-shirt… and it will be my van Leeuwenhoek shirt until it submits to moths, uv degradation or other forces of decay in a few years. No logo, but AvL hasn't yet become a corporate brand like Darwin or Linnaeus.
On the train
I'm now leaving town after failing to find van Leeuwenhoeklaan, evidently covered over by a community college named for somebody else. There are lots of streets in the neighbourhood immortalizing people I have never heard of, presumably municipal politicians or other brands of Dutch historical celebrities, but probably not as important to mankind as van Leuwenhoek was.
The lake where he collected the famous, first water sample, Berkelse Meer, was around here somewhere as the train whips along, but was drained centuries ago to become polder land. We really can't blame anyone for this. Later, he found protozoa in the pretty canals outside his house, and in rain water draining from his roof. Historically significant scientists and their discoveries are usually not obvious until long after they are gone. Society rarely thinks to make monuments or museums of the home, labs, or sites where transformative discoveries were made. The past is often just too obscured to recover with the empirical precision that scientists expect.
Acknowledgement:I am grateful to Dr. Lesley A. Robertson of the Department of Biotechnology of the Delft University of Technology, for her assistance in planning my visit. Part 2 of this essay will provide a map and details of a walking tour for those who might care to explore themselves. The remarkably witty biography by Clifford Dobell, Antony van Leeuwenhoek and his 'Little Animals' was also a valuable source of information; it can sometimes be found as a used book for about $20, and is also available for free on-line in the Biodiversity Heritage Library.