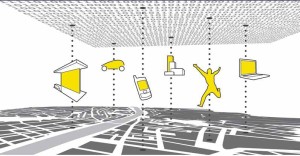 Italian architect Carlo Ratti, Director of the MIT SENSEable Cities Lab, presents an entertaining Ted Talk "Architecture that senses and responds" on the use of sensors in buildings to monitor occupant behavior and environmental conditions for input to the management of the buildings and other human-made systems.
Once we know the critical environmental variables that determine the indoor microbiome and understand what makes up a healthful indoor microbiome, we have a chance to help attain and maintain that healthful population by controlling environmental variables. As we learn more about What is known as the "metadata" associated with the indoor microbiome, we can begin to determine the indoor environmental conditions most supportive of a healthful indoor microbiome.
Note that I am making a distinction here between a "healthful" indoor microbiome, one that is favorable to the health of human occupants, and a "healthy" indoor microbiome, one that is conducive to the development of an indoor microbial population that is part of the total indoor environmental "ecosystem."
The chemical, physical, and biological components of any built environment are a dynamic, interactive system that is constantly changing in response to occupants and weather as well as the operation of building systems such as ventilation, heating, air-conditioning, air cleaning and filtration, and illumination. (See our fact sheet on Building Ecology.) These complex, dynamic relationships are presented artfully and convincingly by Professor Richard Corsi of the University of Texas in his Plenary Lecture "Building Energy & Reactivity: Complex interactions.  Simple Solutions" at the recent ASHRAE IAQ 2013 conference in Vancouver. (His presentation will be part of the conference Proceedings, available January 2014 from ASHRAE's Bookstore.) [Disclosure: I was conference Co-chair and am co-editor of the Proceedings.]
Building systems can (and many will) be operated in response to conditions that can be "sensed" in really "smart" buildings of the future. In theory we will be able to modify the indoor environment to make it more healthful. Also at the recent ASHRAE IAQ 2013 conference (discussed by Rachel Adams here) , Adams Rackes and Michael Waring (Drexel University) reported on their work to apply sophisticated sensing systems in their paper, "Advanced Integrated Indoor Air Quality and Thermal Comfort Air Movement Strategies." Their paper will be available in the published Proceedings, expected to be available from ASHRAE in January 2014. They already published a related paper, (reference: Building and Environment 60 (2013) 243-253) titled "Modeling impacts of dynamic ventilation strategies on indoor air quality of offices in six US cities.".
The Sloan Foundation is funding extensive efforts to characterize the microbial ecology of the built environment. The collection of useful metadata is an essential part of efforts to convert knowledge of the indoor microbiome into input for smart and healthful building environments.