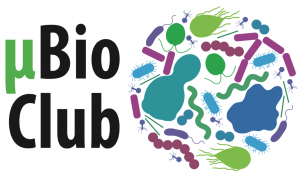 I probably do not have to remind readers of this blog of the widespread impact of microbial life on our world, but what I would like to propose (and reinforce in some cases) is the idea of leveraging the ubiquity of microbiology across academic fields to unite seemingly disparate departments within a university. Here, at the University of Chicago, a group of graduate students with backgrounds ranging from biophysics to pathogenesis have started a casual research forum in which undergrads, grads, post docs and faculty can openly discuss their research in a transdisciplinary environment.
We call ourselves the "μBio Club", and our goals are to:
Improve communication within the university by providing a forum for diverse research topics to intersect.
Combine these meetings with social media to broadcast out to a larger audience.
This forum will be unique in that it will unite researchers across the biological and physical science divisions. We have created a website (ubioclub.wordpress.com) where researchers will provide easily digestible blog posts on their work before presenting at our monthly seminars. In addition to creating a catalogue of amazing and diverse microbe-related research at the university, our website will allow researchers to engage a broader audience. This site will include an integrated calendar where members can post microbe-related seminars, journal clubs, and other events from across campus. Club members can contribute to an @uBioClub Twitter feed, using hashtags to inform one another of interesting events, conferences, and new developments in microbe-related fields.
Though unique to UChicago, this is certainly not the only group of its kind. The Microbial Sciences Initiative at Harvard University provides a model that we hope to emulate here. We are in our infancy as a group, but our growth has been rapid due to a demand for cross-disciplinary forums and thanks to generous financial support from MO BIO and Melinta Therapeutics. We welcome any and all suggestions to help us grow and maintain our organization, and to connect with like-minded groups at other academic institutions.