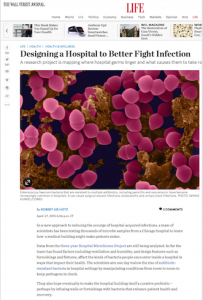 A nice article by Robert Lee Hotz in yesterday's Wall Street Journal called "Designing a Hospital to Better Fight Infection". The article summarizes data from the 3-year Hospital Microbiome Project, funded by the Alfred P. Sloan Foundation in New York. and quotes Emily Landon, Julie Segre, James Meadow, Jack Gilbert, and Jessica Green. From the article:
"I see a future far off where we use bacteria to protect us from the bacteria that harm us," said infection-control epidemiologist Emily Landon at the University of Chicago's new Center for Care and Discovery, the facility under study. "We could make the hospital itself into a treatment for the patient."
In the Hospital Microbiome Project, samples were taken from a Chicago hospital when it was still under construction, and after the building was opened and patients came in.
"Overnight, the building became alive with all these human bacteria," said environmental microbiologist Jack Gilbert at the U.S. Department of Energy's Argonne National Laboratory in Lemont, Ill., who is directing the project.
You can read the rest of the article on The Wall Street Journal.
Designing a Hospital to Better Fight Infection: A research project is mapping where hospital germs linger and what causes them to take root – Robert Lee Hotz – Wall Street Journal – April 27, 2015