Floor dust is an important source of human exposure to microbes due to dust resuspension, especially from carpeted floors. Sources of microbes in floor dust are known to include outdoor air, tracked-in soil, growth on materials, and shedding from occupants or pets, but we wanted to know if growth may also contribute to these microbial communities.
To answer this question, we conducted a study funded through the Microbiology of the Built Environment Postdoctoral Fellowship Program. We embedded dust into a worn residential, medium-pile, nylon carpet from the same home and incubated the carpet coupons at equilibrium relative humidity (ERH) levels between 50-100%. We measured fungal and bacterial communities using qPCR and DNA sequencing of the 16S/ITS regions.
After one week, we identified fungal growth at ≥80% ERH and bacterial growth only at 100% ERH. At 85% ERH, this fungal growth continued until we ended the experiment after 6 weeks. The moisture content was the limiting factor for growth as C, N, P, and S were in excess of stoichiometric requirements. ERH was the dominant factor driving the microbial communities as determined by principal coordinate analysis (PCA). The predominant fungal genera at elevated ERH were Aspergillus, Penicillium, and Wallemia.
We also constructed a rough model to determine the impact that this growth might have on exposure. At these elevated ERH levels, over half of the airborne fungi could originate from growth in the dust after resuspension from the floor by occupants. However, this model needs to be refined and validated in future studies, and does not currently account for differences in dust resuspension that might occur due to relative humidity.
The relative humidity levels included in this study are higher than those found in most typical homes and the recommended level of 30-50%. These levels would be more likely in a hot, humid climate without the use of air conditioning or under other suboptimal conditions. However, this work demonstrates that moisture in the air may be sufficient to support microbial growth in carpet, and this growth has the potential to contribute to human exposure.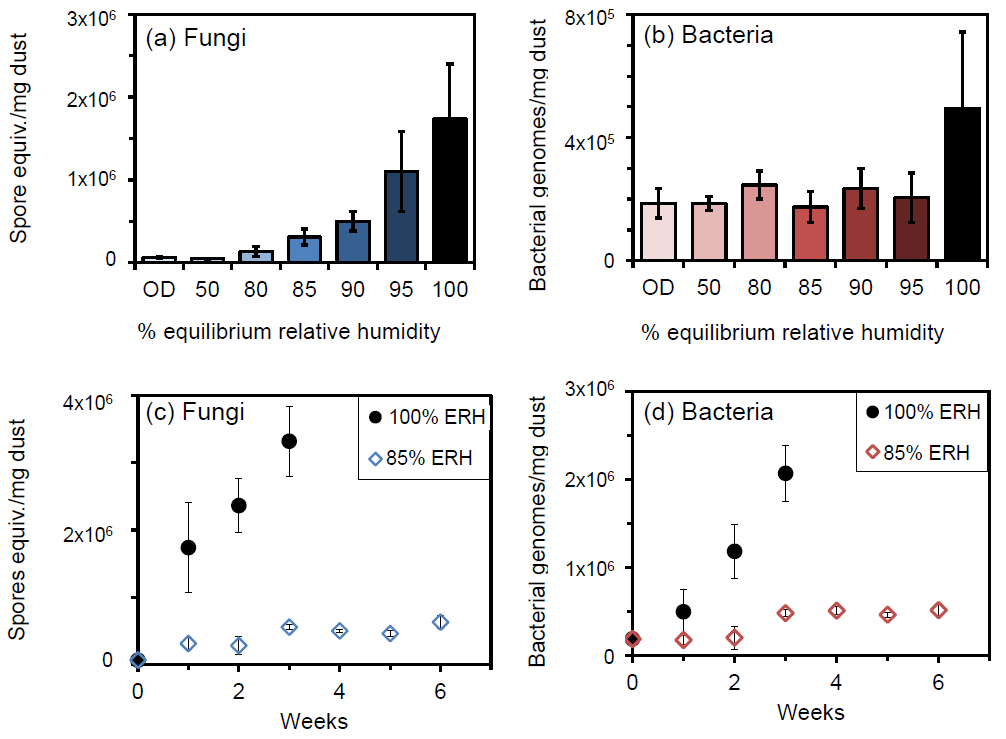 Manuscript (open-access): Dannemiller, K. C., Weschler, C. J. and Peccia, J. (2016), Fungal and bacterial growth in floor dust at elevated relative humidity levels. Indoor Air. doi:10.1111/ina.12313 Available at: http://onlinelibrary.wiley.com/doi/10.1111/ina.12313/full