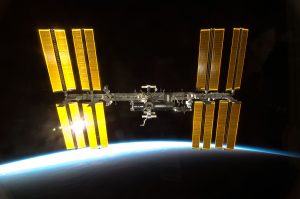 The disease-causing organisms Burkholderia multivorans, B. cepacia, genomovars of the B. cepacia complex (BCC), as well as an unclassified species of Burkholderia, and its relatives Ralstonia pickettii and R. insidiosa account for 60% of the bacterial isolates obtained from the filtrated water system on board the International Space Station (ISS). Members of these genera can survive long periods in a planktonic state in distilled water or as biofilms within an infected individual. They are also natively resistant to several antibiotics leaving treatment options complex. For BCC organisms, this complexity is increased by the phenomenon of bacterial persistence where a genetically identical subpopulation of the bacteria sustains under high antibiotic challenge by a reduction in metabolism and other mechanisms. A healthy astronaut could easily clear a BCC or Ralstonia sp. infection; however, after prolonged spaceflight, a potentially immunocompromised astronaut with repeated exposure to these organisms could be at risk for disease.
To understand the mechanisms that could contribute to altered virulence in ISS BCC and Ralstonia species, the genomes of each strain from each mission will be sequenced and compared to their respective ATCC BCC or Ralstonia strain. The potential for increased virulence will be determined by the presence of genes clustered as pathogenicity islands in the respective genome. To establish if the strains are becoming more resistant to antibiotics, a minimum inhibitory concentration (MIC) will be determined for each isolate using six antibiotics currently used to treat these infections and then compared to the respective ATCC control strain. Finally, a transposon library will be generated for the most virulent, resistant, tolerant or persistent strain and this library will be cultured in distilled water to simulate conditions on the ISS. Here we will identify genes which aid in the survivorship of BCC and Ralstonia strains in the water system of the ISS. The knowledge gained from the genomic sequencing and Tnseq study will allow us to assess any increased virulence or infection potential, as well as help to make antibiotic recommendations, predict target genes where inhibition by adjuvants will enhance antibiotic therapy, or present novel water treatment options to eradicate the BCC/Ralstonia strains from the potable water of the ISS.
This work will be advised by Professor William Nierman at the J.Craig Venter Institute (JCVI) and additionally managed by the Kennedy Space Center. This work is made possible by funding from NASA's Space Biology Program under grant NNH16ZTT001N-MOBE and JCVI. NASA has kindly provided access to the microbial isolates collected from the ISS, which was made possible by the NASA Space Act Agreement between the NASA Space Biology Program and the Alfred P. Sloan Foundation. JCVI has kindly provided me with the opportunity to apply for the above NASA solicitation and continues to provide me with a fostering environment where I can carry out science and begin my career. Thank you for the professional and financial support from each organization. It is an honor to have the opportunity to study space biology in conjunction with genomics. I hope to make new discoveries and help to inspire future generations of scientists and space biologists alike.