Job posting for a part time, online only research assistant position helping to catalog information from the primary literature relating to the microbial ecology of the built environment.
Long description from Hal Levin, the contact person for this position:
"We'd like to find a student well along in their academic career (grad student or undergrad close to graduation) with a potentially strong interest in the microbiology of the built environment, particularly the indoor environment. (Our focus is primarily the indoor environment.) We would send selection publications from our collection of articles  to the student for reading, data culling, and data entry in the database. The ideal R.A. would be knowledgeable enough about microbiology to be comfortable identifying the relevant species and the indoor environmental factors associated with the presence, prevalence, and other characteristics of the identified microbes reported in each paper. The ideal student would have an interest in the subject of our inquiry that went beyond simply the microbiology. They would have an interest in the microbes as part of the ecology or ecosystem in buildings or on materials that are the sites or subjects of the papers we have collected."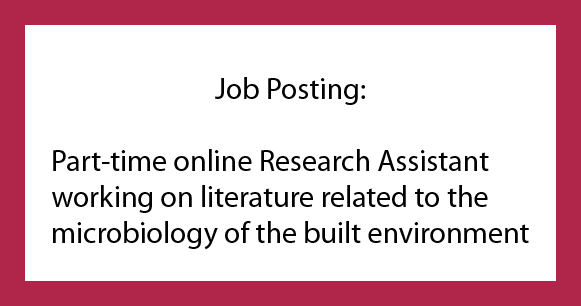 The details:
Duration: 6 months minimum, to 12 months maximum
Approximate Hours Per Week: 10 – 20
Salary Range: negotiated – hourly
Qualifications:
Candidates should have a strong interest in microbial ecology and knowledge of or willingness to learn database entry, specifically Microsoft Access.
Job Description:
Read articles on microbial ecology of the built environment and catalog information in the articles in a database. Information will include the micro-organisms identified and the characteristics of the environment where they were collected or sampled.
Additional Notes:
E-mail resume, and availability in terms of hours per week during school term and summer to contact below.
Contact Information:
Hal Levin
831 425 3946 (leave a message if nobody responds)
hlevin6@gmail.com