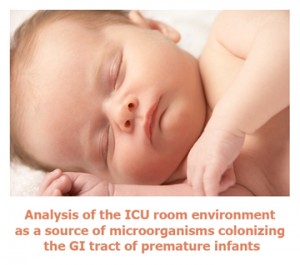 The second new project to receive funding from the Sloan foundation is a project entitled "Analysis of the ICU room environment as a source of microorganisms colonizing the GI tract of premature infants".  This project is being managed by Jill Banfield at UC Berkeley, along with her Co-PIs; Michael Morowitz (University of Pittsburgh School of Medicine) and William Nazaroff (UC Berkeley).
Full project description below:
The critical process of microbial colonization of the neonatal gastrointestinal (GI) tract begins at birth and is likely impacted by exposures to room-associated microorganisms during hospitalization. Immediately after birth, premature infants conventionally receive antibiotics, a step that likely decouples gut colonization from most inoculation from the mother at birth. This increases a premature infant's vulnerability to colonization by environmental microbes. Additionally, premature infants suffer from an incomplete immune system, lack enteral nutrition, and are often treated with drugs which reduce gastric acidity. Consequently, hospitalized premature infants offer an ideal system to study the effects of the built environment's microbiome on gut colonization.
Our project aims to test the hypothesis that room surfaces frequently touched by humans in the neonatal intensive care unit (NICU) are the predominant source of organisms colonizing the GI tract of newborn premature infants and evaluate specific microbial dispersal pathways within the NICU. Using a PCR-EMIRGE approach, pioneered in the Banfield lab, we will survey the microbial burden of air, water, frequently touched surfaces, and hands of room inhabitants in a NICU throughout the first month of life. The timing and migration patterns of NICU microbes into the gut will be determined by matched time-series fecal sample collection and subsequent de novo assembly of gut colonists' genomes. Retrospectively, we will use the sensitivity offered by complete genomes to design strain-specific primers for genes of interest to perform qPCR on NICU samples informed by the aforementioned survey. Additionally, real-time particle and CO2 data will be used to investigate the role of human occupancy and activity levels as factors influencing the release and spread of microorganisms. We expect to contribute significant insight into the microbiome of the NICU, its role in neonatal gut colonization, and intervention methods to better monitor and stop transmission pathways to infection.