One of the problems I've faced as a microbiologist attempting to learn about the built environment is the incredible amount of snake oil and pseudoscience that swirls around the edges of the field.    There's a huge body of solid, peer-reviewed research in the field of course.  But there's a lot of company-sponsored pseudoscience out there as well.  We've posted about a number of these kinds of things… particularly those that imply all microbes are dangerous or that they have a magic cure for sterilizing a building.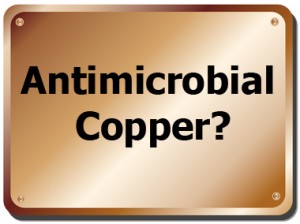 Then there are the things that I just don't know enough about.  For example I've been hearing more and more about "antimicrobial copper"… the coating of surfaces with a copper alloy that dramatically reduces colonization of those surfaces by bacteria.  Curious whether this was snake oil or good science I started with the Wikipedia article.  Based on that, it seems like it might be a fairly good thing to use in intensive care units and the like.  I wouldn't want to live in a copper-plated house (don't forget those good microbes!) but I can see the uses.   Seems to avoid many of the issues with antibiotics as well.
What I can't find are any microbiology-based arguments against it (just the price, and the tarnishability of copper).   Anyone know of a good reason why more copper surfaces wouldn't be a good way towards reducing microbial loads in places where that's important?