We got the great news that the Sloan Foundation has funded the proposal to continue the Berkeley Indoor Microbial Ecology Research Consortium. BIMERC is a collaboration of UC Berkeley scientists with a goal "to understand the microbial ecology of the build environment through interdisciplinary research that combines microbial biology, particle transport physics, chemistry, and architecture."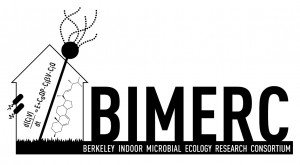 During the first grant period, the one-sentence version is that we focused on characterizing the microbial communities indoors. This entailed characterizing biological particles through their composition, quantity, and fluorescent properties in homes and university classrooms.
For this next cycle, we will continue to develop a source model for indoor air by quantifying the strength of different microbial sources. One way we will do this is under experimental conditions in a Controlled Environmental Chamber where we can manipulate properties like number of occupants, activity of occupants, floor type, and ventilation properties. In varied environments we will also validate and calibrate the physical and chemical methods of detection of airborne particles and volatile organic compounds using a Ultraviolet Aerodynamic Particle Sizer (UV-APS) and a Proton-Transfer-Reaction Time of Flight Mass Spectrometer (PTR-ToF-MS). [This new Mass Spec is so cool, it's getting its own blog post! Check back for it.] Finally, we will use genomic and other tools to explore the viability and activity of indoor microbes. 
We are all thrilled to continue and expand on the MBE work.