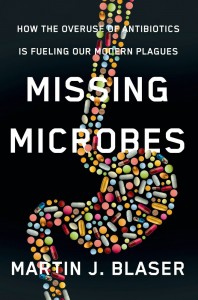 "In 2010, Americans were prescribed 258 million courses of antibiotics, a rate of 833 per thousand people. Such massive usage, billions of doses, has been going on year after year." or so says Martin Blaser who has written a book ("Missing Microbes: How the Overuse of Antibiotics is Fueling Our Modern Plagues" published by Macmillan on the overuse of antibiotics and its impact on our health.
Blaser writes in his commentary published on CNN's web site: "Our diverse microbes, with their millions of genes helping us resist disease, are the guerrilla warriors defending the home domain — as long as we protect them. But recent studies suggest that otherwise normal people already have lost 15% to 40% of their microbial diversity and the genes that accompany it."
"With lower resistance, plague inevitable in interconnected world."
The book's key concepts are readily accessible in Blaser's CNN commentary found here.
Thanks to Jessica Green for tweeting the link to the CNN Commentary by Blaser.