One of the issues that was raised in the recent Microbiology of the Built Environment conference in Boulder was sampling, specifically what and how is the material collected for subsequent biological analysis. Industrial hygienists and those tackling questions of exposure have devoted a lot of time to developing methods for how to study the indoor environment, and if those methods are used, it would facilitate interpretation of results across disciplines. I was looking for a pithy review of issues in sampling, with the goal of finding an efficient way for an ecologist to get up-to-speed on methods commonly used for occupational hygiene purposes. I found it.
It's a chapter entitled Detection of indoor fungi bioaerosols, by James Scott, Richard Summerbell, and Brett Green, published in the book, Fundamentals of mold growth in indoor environments and strategies for healthy living (Wageningen Academic Publishers, 2011). They discuss fungi specifically, but the discussion is relevant for other microorganisms, too.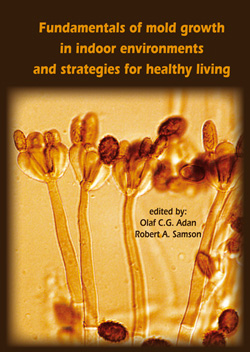 The authors classify methods into two categories: (1) those that track particles in the air by directly sampling the air; and (2) those that look at growth directly on building materials. They discuss properties of particles that affect their movement, then talk about issues with active air sampling, passive air sampling, and lastly the analytical methods that can be applied to these samples.
Interestingly, these sampling methods were developed with an eye toward the traditional analytic methods: culture, microscopes, or chemical markers. It will be interesting if the use of high-throughput PCR-based characterization of indoor environments alters recommended sampling protocols.