So – we have been having a running discussion with people in my lab about one key issue in microbiome studies – how does one store samples prior to doing DNA extractions and does it matter?  As background for those who do not do this kind of work – the general principle behind DNA based analysis of microbes and microbial communities is that you can go to a sample (soil, water, air, tissue, etc) and extract DNA from that sample and then study the microbes in the sample by looking at the DNA.
This can be represented in the following cartoon:

But one of the challenges is, it is not always possible or ideal to directly isolate DNA from ones sample.  And how samples are processed can affect what DNA comes out the other end and thus can affect results.
From a simple examination of a set of projects, it seems to me there are something like five main classes of approaches used in going from sample to DNA which I represent in this cartoon.  Some details are in the text below.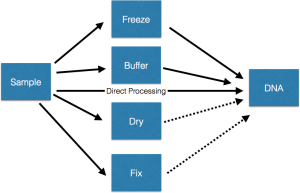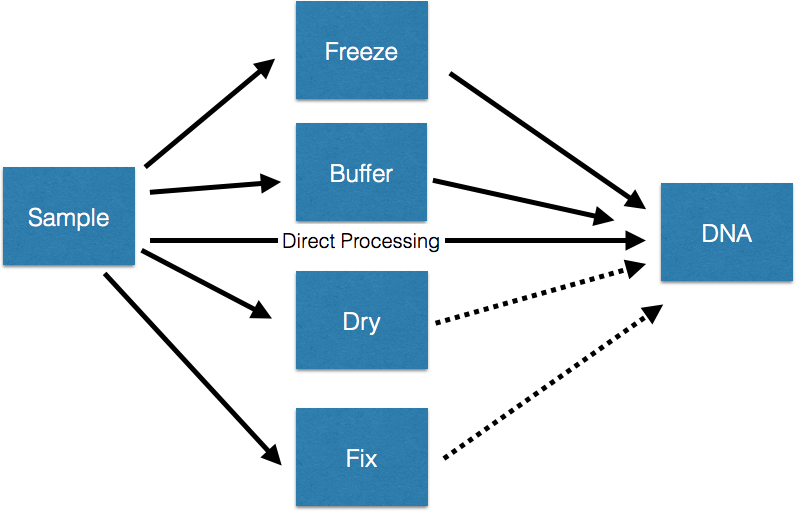 Freeze. 

Collect samples, whatever they may be (soil, swabs, tissue, etc) and freeze them, preferably at a very cold temperature.  Then, when it is time to do DNA extractions, thaw them out and extract DNA.
Buffer. Mix with some buffer or DNA stabilization / extraction solution and then let sit, possibly at room temperature, for an extended period of time.  Then extract DNA.
Process. Process fresh samples immediately (or as rapidly as possible) and extract DNA and then store the DNA for later use.
Dry. Collect samples and dry them and then store them dried.  This is done usually in cases where the main goals do not involve DNA analysis.  But sometimes people would like to go to the samples afterwards and try to study microbes in and on the samples.
Fix. Collect samples and then mix them with some sort of fixative (e.g., formalin, alcohol).  This is done with all sorts of samples where the main goal is to do something other than DNA analysis.  But then, after the fact, many people would like to get DNA out of these samples.
Of course, this is a bit of an oversimplification, but to me these seem to be the main categories of what is commonly done with samples.  There are also other "minor" categories of what is done with samples but these five seem to cover most cases.
I am writing this post for three main reasons.
First, I would like to generate a community discussion around what people do with their samples and why.  For example, I was told recently that there is some literature indicating the freezing fecal samples directly (rather than putting in some buffer) is less than ideal because the microbiomes retrieved from such samples change over time.
Second, I would like this to serve in a way as a place for people to ask questions about recommendations for what to do for their samples.  For example, I got asked yesterday about how to collect plant leaf samples in the field for microbiome studies if one does not have access to a freezer.
Third, I would like to use this as a launching pad for starting to collect together formal protocols that people use in microbiome and microbiology of the built environment studies.  We may use Protocols for this, but am still experimenting on systems.
So please -anyone who works on microbiome studies – we would welcome comments about methods and best practices and references and any other detail you can provide.