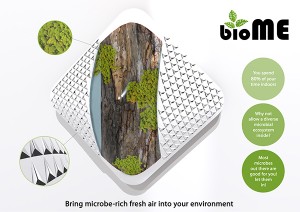 This is one of those stories / articles / posts that simultaneously fascinates me and freaks me out a bit and for which I fluctuate wildly between those two points of view:
bioME – RSA Human By Nature Entry on Behance By Candice de Aguiar
Her basic design idea here is to allow for more microbial diversity in indoor air via a custimaizable system to have terrariums inside a filtration bubble basically (I think).  With lichens providing some of the air filtration.
I talked to her a bit a while back and there is a section in here with what seem like quotes from me.  I think these are almost certainly her summaries of what I said since I cannot imagine having said some of those things and some of what I am reported to have said makes me cringe.  Be that as it may, the conecpt is fascinating.  And potentially worrysome.  But rather than pre-bias people's interpretations too much – I suggest you go check out her site.