There is a new paper in AEM of interest: Characterization of biofilms developing on hospital shower hoses and implications for nosocomial infections by Maria J. Soto-Giron, Luis M. Rodriguez, Chengwei Luob, Michael Elkd, Hodon Ryu, Jill Hoelle, Jorge W. Santo Domingo and Konstantinos T. Konstantinidis
They used 16S rRNA gene sequencing of cultured isolates, and metagenomic sequencing, to characterize the microbes living in hospital shower hoses.
They report in the abstract:
The resulting data revealed a Mycobacterium-like population, closely related to M. rhodesiae and M. tusciae, to be the predominant taxon in all five samples, and its nearly complete draft genome was recovered. In contrast, the fraction recovered by culture was mostly affiliated to Proteobacteria, such as members of the genera Sphingomonas, Blastomonas, and Porphyrobacter. The biofilm community harbored genes related to disinfectant tolerance (2.34% of the total annotated proteins), and a lower abundance of virulence determinants related to colonization and evasion of the host immune system. Additionally, genes potentially conferring resistance to beta-lactam, aminoglycoside, amphenicol, and quinolone antibiotics were detected. Collectively, our results underscore the need to understand the microbiome of DW biofilms using metagenomic approaches. This information could lead to more robust management practices that minimize risks associated with exposure to opportunistic pathogens in hospitals.
A summary of what they did is below:
Collected samples from biofilms in hoses in 2012 from 40 showerheads in a hospital in Ohio
Cultures were grown from a sample of these biofilms and some of the isolates were typed using rRNA gene sequencing. A subset of these had their genomes sequenced.
Metagenomic sequencing was done from give samples
Taxa, genomes and metagenomics were analyzed
Results and Discussion
A large fraction of the metagenomic reads that could be taxonomically assigned were assigned to Actinobacteria closely related to the genus Mycobacteria.
They predict that potential opportunistic pathogens were present
Many of the organisms in the sample appear to carry antibiotic resistance genes
They compare their data to that from other "similar environments" including pipes and ICU surfaces.  Though I don't understand why they did not compare their data to that from Feazel et al. (Shower biofilms). Definitely something to follow up on.  I will try to ask the authors for an explanation.
They analyze the genomes and metagenomes to try and get more detail on the strains present in the samples
They discuss what they see as implications for nosocomial infections
Here is the figure on taxonomic composition of their samples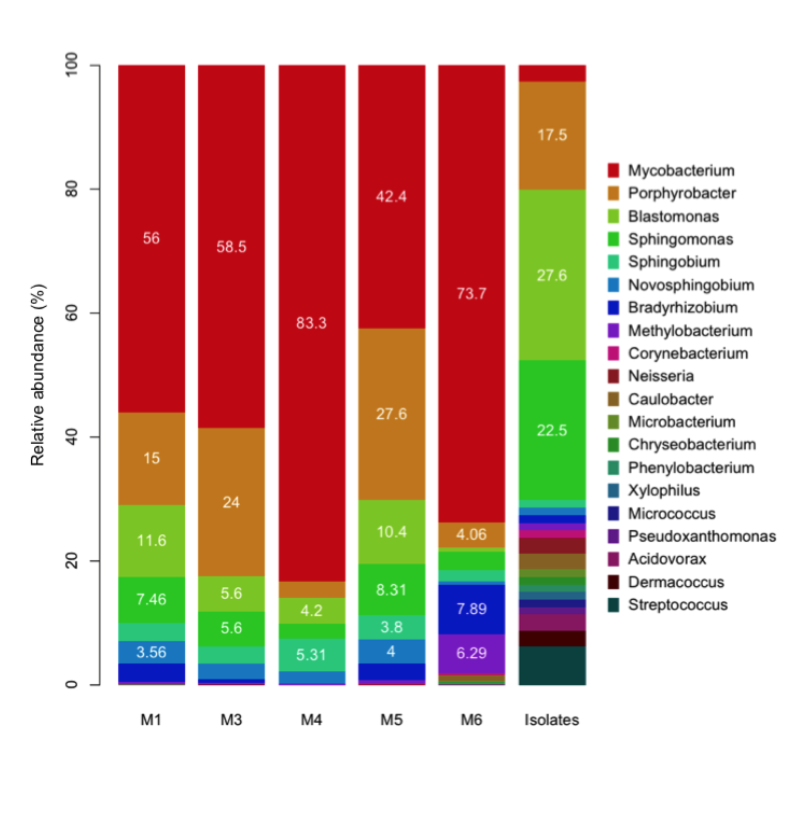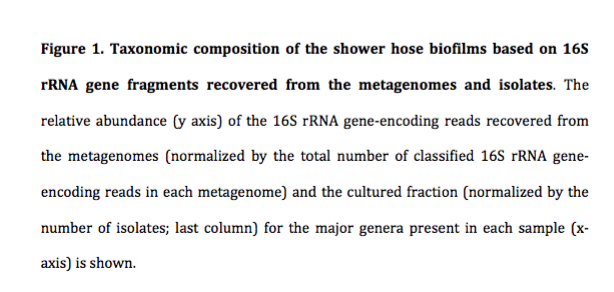 Anyway – the paper may be of interest to those out there looking at the microbiology of water systems in the built environment.  I think the paper should be viewed as very preliminary and they do not have any information about health risks or even correlations to health risks, but the data may be useful for designing or interpreting future such studies.