So both Hal Levin and I have posted and/or commented on the topic of plants "cleaning" the air in buildings.  Most of what's out there is either anecdotal or based on an old NASA study that would require hundreds of plants in a home to make any appreciable difference.  Here's a couple microBEnet posts on the topic: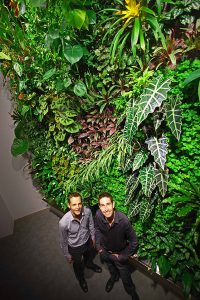 Microbes, plants, biowalls and indoor air quality (David Coil)
The hype about plants can clean indoor air continues unabated (Hal Levin)
Enter the New York Emergency Center which just opened this past June.   Because the building is supposed to function as a completely closed command center in the event of a major emergency, they were interested in using plants to clean the air.  Unlike other similar projects I've read about, it sounds like they're actually trying to understand if it works.  They've taken what evidence is out there in order to design the wall, and plan on conducting ongoing research to see if the wall has any effect.
I'll be curious to see…