The Mycological Society of America's annual meeting (program) was held at UC Berkeley this year with the theme of "Sequencing the Environment." The Sloan Foundation sponsored three symposia to 1) highlight ongoing studies of fungi in the built environment and 2) further understanding of the fundamental processes that structure fungal communities, including those of indoor environments.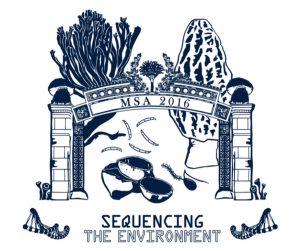 The session on the Built Environment was titled, "Fungi & Fungal Products in the Built Environment: Investigating our Indoor Companions." Here, fungal research in indoor environments were showcased to the larger mycological community and "built environments" were expanded to include food. As a quick summary, Cobus Visage spoke about the taxonomy and diversity of xerophilic fungi associated with house dust. Karen Dannemiller then demonstrated that in carpets with high relative humidity those xerophilic fungi are metabolically active, and how this might be impacting childhood asthma. Iman Sylvain spoke about fungal communities in 'water-damaged' and non-damaged units in NYC. Susan Lynch spoke about many social/environmental dimensions of childhood asthma and the detection of three emergent microbial communities associated atopic states. Ben Wolfe spoke about dispersal and selection on microbial communities within the context of fermented foods. Henrik Nilsson argued for more sequences to be included in the UNITE database because it is shameful to show a bar graph demonstrating that 30% of your indoor fungal communities have 'unknown' taxonomy.
Plus, there were two other symposia supported by Sloan. One was Dimensions of Fungal Biodiversity, which aimed to show front-line advances in studies of the genetic, phylogenetic, and functional diversity of fungi at scales from genes to ecosystems. The other symposium was entitled "Patterns and processes in global fungal biogeography: small things at large scales," and discussed patterns observed in experimental systems, determining how to model the distribution and niche of vast numbers of undescribed and undetected microbes.
The symposia were a great successes, as speakers addressed fundamental and applied questions in fungal ecology, evolution, genomics, and biofinformatics that are directly translatable to 'built' and other  environments.