We started class by talking about how to interpret our PCR results by looking at gel images. The goal for the day was to prepare the samples that worked (ie had positive bands on gel) for submission for Sanger Sequencing.
We had a brief discussion about why we need to clean up PCR products, how and why we quantify the DNA with Qubit, and what we can expect to get back from Sanger sequencing.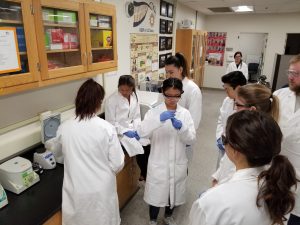 The process of students following this PCR clean-up protocol and this DNA quantification protocol went smoothly. One tip that we have is to remind students to label the top of their tubes so they know which tube to take out of the centrifuge. We had two centrifuges in the classroom, which slightly reduced a bottleneck at centrifugation steps.
For the last portion of the class, David Coil lead a class discussion about the importance of publishing Open Access, including some of the drawbacks of Open Access, the importance of Peer Review, warnings about predatory journals, and legality around getting inaccessible papers (without paying).
For homework, students used these guidelines to create twitter posts about scientific research they found interesting. Please like and retweet them! You can search for '#FYS_CURE_NectarMicrobes' to see what students chose for this project.