Today a colleague sent me a link to a Genome Biology paper entitled "The Kardashian index: a measure of discrepant social media profile for scientists."  At first glance, it reminded me of Greg Caporaso's post about Twitter last month.  But as I continued to read, the slight truth behind the premise described in the paper fascinated, amused, and slightly troubled me.
In this short communication, the author, Neil Hall, defines the Kardashian index as "a measure of discrepancy between a scientist's social media profile and publication record based on the direct comparison of numbers of citations and Twitter followers."  The K-index is calculated by dividing the actual number of Twitter followers a scientist has by the number of Twitter followers said scientist should have based on their citations.  A high K index indicates that said scientist may have built their reputation on a shaky foundation (i.e. the Kardashians, circled in Figure from the paper below), while a low K index indicates that said scientist is not being given credit where credit is due.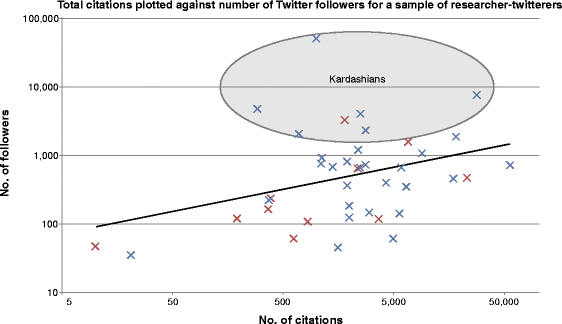 Check it out for, at the very least, an amusing read perfect for a sluggish Tuesday afternoon.  And maybe after reading it, you'll have a new outlook on Twitter and what your followers are telling you about your scientific prowess.
What's your Kardashian index?