We at the Berkeley Indoor Microbial Ecology Research Consortium (BIMERC) are thrilled to have received a renewal grant from the Sloan Foundation to understand the microbial ecology of the built environment as mediated by interactions among organisms, particulate matter, and volatile and non-volatile chemicals. This grant gives us an opportunity to expand on our collaborative work that combines microbial ecology, particle dynamics, and biogeochemistry in order to explore the sources, factors and processes involved with assembly of microbial communities and their chemical products in the indoor environment.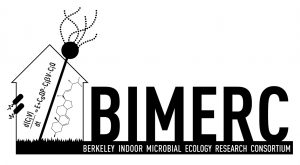 We will identify the "hotspots" for microbial growth, bioaerosol generation, and microbial production of chemical volatile compounds in typical homes. This effort will capture highly time- and size-resolved measurements of microbial volatile organic compounds (mVOCs) and fluorescent biological aerosol particles (FBAPs), as measured by the novel instrumentation that we are pioneering in indoor environments: the Proton-Transfer-Reaction Time-of-Flight Mass Spectrometer (PTR-ToF-MS) and the Ultraviolet Aerodynamic Particle Sizer (UV-APS). Biological sampling of surfaces and aerosols will complement these chemical and particle-based assays and will be orientated toward uncovering the biological state (alive/dead/dormant) of cells encountered indoors.
To more fully characterize the microbial chemical ecology of indoor surfaces, we will also incorporate the study of non-volatile chemical compounds, as measured through nanospray desorption electrospray ionization mass spectrometry (NanoDESI MS), a new technology that offers the unparalleled ability to comprehensively sample soluble chemicals directly from biotic and abiotic surfaces. For this component we welcome a new member to the BIMERC team, Matt Traxler. Research in Matt's lab seeks to decode the chemical molecules that control microbial interactions, and we are really excited for the opportunity to integrate this component into our approaches for studying built environments.