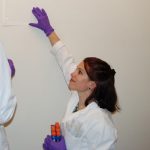 This last winter, Gwynne Mhuireach at the University of Oregon taught a really interesting course entitled "Human Health and the Design of the Urban Microbiome".  She posted a description of the final "design charrette" here on microBEnet awhile back.  I just asked her if she'd be willing to share her course materials for others interested in developing similar courses and so here they are.   Hopefully this will inspire similar efforts!
When I asked Gwynne if there were any "lessons learned" from this course her response was very illuminating.  This is a gap that we've been trying to bridge for years in the field but our state of knowledge hasn't caught up with our desires.
Really, the biggest lesson I learned was that as much as I push for relevance to actually building stuff in the real world in our Sloan group, the architecture students want/need that even more. Several of them were quite frustrated that I couldn't easily tell them which microbes were good/bad and exactly how to promote or exclude them from the indoor environment. They thought it was a cool area of science, but kind of gave up on it when they couldn't see how it might inform the designs they were working on for architecture studios.