I have gotten many outside requests for the following information – what places (companies, Universities, government agencies, etc) provide contract services for rRNA PCR and sequencing?
I know that uBiome will do this (full disclosure – I am on their SAB).
The UC Davis Host-Microbe Systems Biology Core will do this (more disclosure – I am the Assistant Director).
Science Exchange has a list of some places that do this too: https://www.scienceexchange.com/services/16s-rrna-seq.  But there are only six places listed there.  There must be many many more.
Here are some other places I found in a quick Google search that seem to do such service:
I am sure there are many others out there.  It seems that it would be good to compile a list of places that do this and information about costs, quality, etc.  So I am hoping to do that here with some crowdsourcing help.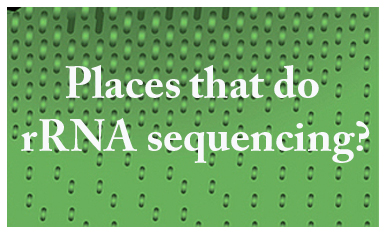 Where have people gotten such sequencing done?
Did you like the results?
What did it cost?
Any / all information would be useful.
Cataloguing responses on Twitter: