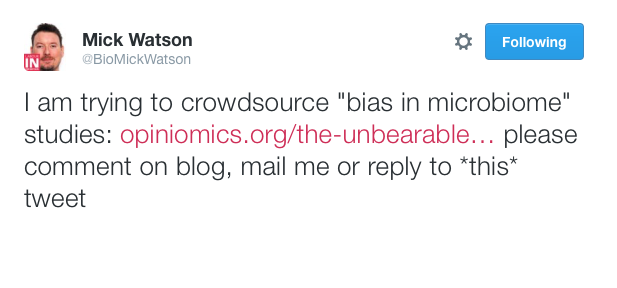 So I just saw this Tweet
@BioMickWatson can't find paper I'm thinking of, but OTU calling software/algorithm matters a lot

– David Baltrus (@surt_lab) August 6, 2016
So I went to Mick Watson's site and saw this:
This is my attempt to collate the literature on how easy it is to introduce bias into microbiome studies.  I hope to crowd-source papers and add them below under each category.  PLEASE GET INVOLVED…
Source: The unbearable madness of microbiome |
And I thought this might be something of interest to readers here.  The more we are all familiar with the possible sources of bias in microbiome studies the better we will all be able to design and interpret studies.
I have written about related issues here – for example see Best practices for sample processing and storage prior to microbiome DNA analysis freeze? buffer? process?. Definitely a useful thing to keep track of.